TRAINER'S TIP - FALL 2011
Trainer's Tip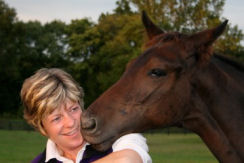 Trainer Profile: Sue Clarke has a wealth of knowledge and experience as stable manager at Stonehall Farm, The Plains, Virginia, since 1992. Sue has worked with various levels and disciplines of horses from Olympic Medalists to foxhunters. In addition she currently serves as a hands on manager to the Landmark Stables Breeding Program for young event horses, also in The Plains Va. This position requires Sue to provide daily practical skills and management of weanlings, yearlings, and broodmares.
Question for Sue: What fundamental lesson do you feel is very important for foals to learn that will remain with them through their adult lives?
Answer from Sue: Sue feels an important fundamental lesson for all foals to learn before they are weaned "is the ability and willingness to go forward". " If the foal does not learn this skill, we are limited as horsemen as far as what we can ask them to do. Everything we ask of them is built on the fundamental premise of the horse being willing to go forward. There are many elements to helping achieve this fundamental goal. Some of the important elements are: trust, respect, understanding and looking to a person for leadership".
"The elements and skills necessary for learning to go forward are taught through repetitive, methodical, and consistent handling which crosses over from grooming, to picking up feet, to bathing, to walking alongside the mare." As the foals confidence and understanding develops, we ask more of him. For example, when ready, we ask him to walk ahead of the mother out of the paddock, providing the opportunity to learn the intrinsic value of going forward. Once they learn to consistently go forward, it becomes easier for them to deal with the different questions that are put in front of them, whether that is leading or getting on a trailer for the first time. Everything becomes more difficult if they don't go forward. Going forward provides a rewarding experience for the foal and consequently he will be more willing to approach new tasks and/or situations with less fear."
Sue Clarke
Stable Manager
Stonehall Farm
Landmark Stables Breeding Program
The Plains, Virginia