My Thoughts About The 2014 World Equestrian Games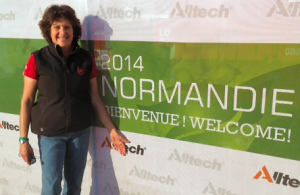 Despite experiencing the serious disorganization at the World Equestrian Games 2014, Normandy France, I have come away with a deeper enrichment and lifetime appreciation for what it means to be part of a Team. I worked as the Team Sports Therapist for both horses and riders for Equine Canada 3 Day Eventing Team.
My father has often suggested to me "put everything on a scale and weigh it". The balance of the scale at the WEG tipped toward the incredible organization of Team Canada for Eventing. Within the disorganized framework of the WEG, the Canadian Team mastered the challenge with incredible composure and humor. Team members were able to transcend the bad weather conditions and disorganization by pulling together as one highly functioning unit. They gave everything they had and more for one another, for the horses, and for their country. They were bound together by a strong sense of pride, respect, and caring, for the sheer privilege to perform on the world stage. The team included the riders, horses, coach, barn manager, grooms, farrier, vet, team manager, Chef d'Equipe, and myself. To be included as part of this very smooth and powerful running machine was not only an enriching experience, it was, and still is an honor.