ROLEX INTERNATIONAL AND THE KENTUCKY DERBY
Rolex 2011 had an impressive group of top international competitors from England, Australia, New Zealand, Canada, and the USA. Over the course of the four days while I was working as a sports therapist, I felt as if I hadnít left the 2010 World Equestrian Games, which were also held at the Kentucky Horse Park. There was a great feeling of excitement and reverie during the entire competition. The crowds were quite large for all phases of the competition. The horses did well over the beautifully designed cross country course, some a little better than others! All horses were safe and healthy at the end of the day.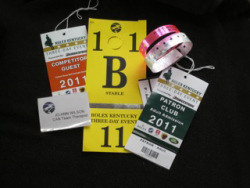 Following the World Equestrian Games, I think Rolex increased its security and I found myself loaded down with various passes, and 2 wrist bands for entry to the horse park, the stable parking, the stables, and to dine in the Patrons tent (per the generosity of the Canadian Event Team).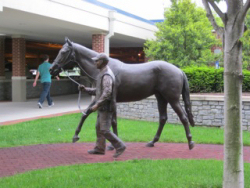 The entire work experience was great, including leaving the Bluegrass airport with its fabulous life sized bronze sculptures near the parking lot.

Karen OíConnor rode Quintus 54 (Quin). This was Quinís first outing at Rolex and he finished a strong 13th. He is a very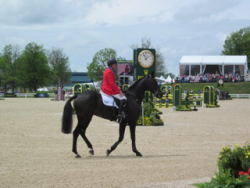 special, talented horse. Congratulations to Karen, Max and Quinn for this great first step. The Canadians, who I was also working with, had two riders and horses finish in the top ten! Jess Phoenix on Expontential, (an off the track thoroughbred), and Rebecca Howard on Riddlemaster (who I call Fudgey because he is so sweet and kind). Congratulations Canada! Fortunately, while at Rolex, I had my ear to the ground about the Kentucky Derby which followed Rolex. The gossip was to watch out for Animal Kingdom trained by Graham Motion from PA and MD. Well, that gossip paid off because I put $2.00 down on Animal Kingdom at a huge Derby Party I attended, and I won! I felt as if I had won a million dollars, which actually turned out to be $40.00. Not bad for a two minute time frame!