Trainer's Tip: The Importance of Walk Breaks During Training by Liz Millikin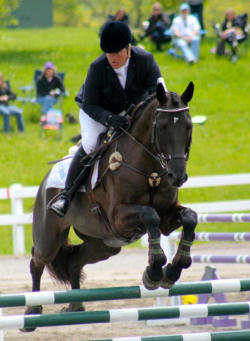 I believe every 10 minutes the horse should be allowed a short 1-2 minute walk break during training. A walk break should be given for every level and discipline of sport. The walk should be on the buckle, allowing the horse to stretch his neck and topline. This also gives the horse a mental break from the pressure of training. Riderís get a mental and physical break as well, so they can take a moment to step back and assess their training methods and make corrections if needed.
If I run into a training issue, I like to take time out, walk for 1-2 minutes and think about how effective are my aids, am I communicating clearly to the horse, and ask myself if the horse is able to correctly interpret what I am asking him to do. The walk allows me to evaluate what I am doing, so I can get the results I am looking for on that particular day.
It is important for riders to understand about compromising with the horse and the walk break enables the appropriate distance to support objectivity. I try never to over work my horses during the training. I find they are refreshed after the walk breaks. I do not want to create an attitude issue such as grinding teeth, unwillingness to go forward, ears back, trying to exit the arena, swishing of the tail, or general baulking. The horse tends to stay more relaxed if they have breaks. The more relaxed they are, the easier and more willing it is for them to learn.
During Competitions: About 10 minutes before I go into the competition ring I make sure to give my horse a 1-2 minute walk break on the buckle during the warm up. This takes the pressure off, and allows me to unwind, take a deep breath, get my thoughts together and then carry on in the warm up. It is important to plan and be organized when training or competing, and the walk break can bring you back to your original plan.
We must consider the horse as a cooperative partner, and not simply a means to transport us toward our goals. A happy horse, makes a happy rider and a good performance.
About Liz Millikin
Liz, of Millwood Va. USA, an International 3 Day Event rider, competitor and instructor is known for selling top quality horses for all levels and disciplines from international to pleasure riding. Liz has the unique ability to identify excellent conformation in the horse and to train and prepare young horses to sell for sport. Her gift in pairing horse and rider is evident in the success of those who have purchased horses from her. Her horses have been sold to several Olympians and have competed in both international and World Equestrian Games competitions as well as in national and local competition and for pleasure riding. Liz may be contacted at emillikin@verizon.net