THE WORLD EQUESTRIAN GAMES, 2010
I had a fabulous time working as the sports therapist for the Canadian 3 Day Event Team, coached by David O'Connor. The team won the Silver Medal for the first time in 32 years!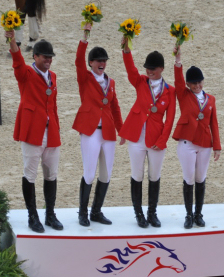 Being with the entire team, including the horse's, support staff, manager, vet, and farrier felt as if I were working within a large family environment with one agenda, which as to win a medal. I never laughed so much, because the team members were all so light hearted with fantastic senses of humor, despite the extreme competitive environment. They are fierce competitors with the best interest in their horse's well being .
I will never forget when the morning after cross country came around and Canada was sitting in a position to win a medal if they did well show jumping, when one of the team members stood in front of everyone and yelled "let's go out there today and win our medal!!" And that they did! The horse's were in top shape. They were relaxed, fit, and ready to do the job. David O'Connor was brilliant as the coach because he quietly strategized and instructed while supporting both the horse's and riders in all phases of the competition. Cross country day as usual, made me feel so anxious, I could feel heart palpations, though the Canadians rode smoothly and confidently. All the horses fared well. Once the team stood on the podium to receive the silver medal, our exhilaration was heightened to an unmatched level. Followed by a tip of the glass of champagne!
I was fortunate to see Edward Gal ride Moorlands Totilas as well as many other top riders and horses in the Grand Prix Dressage Freestyle. Totilas is not that big of a horse, and seemed very relaxed and content. The reining drew a huge crowd with the US doing very well.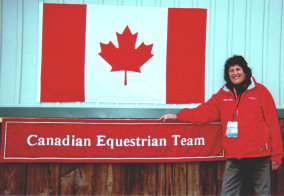 Jo-Ann was chosen as the only clinician to present several education seminars on the Wilson-Meagher Method of Equine Sports Massage. The presentations were well received and very successful despite the first demonstration!
The first time was nearly a disaster because I used a top thoroughbred race horse from the Hall of Champions at the Horse Park, and when I was about to demonstrate on the horse, we all heard a trumpet play "Call to Post" (the tune played before all horse races). The demo horse thought he was at the races again. Well that set the horse alight and the handler could barely hold him, so it forced me to dismiss my first demo on my first talk. Thank Goodness for improvisation! The rest of my presentations were well received, with less vigilant horse demos used.