Trainer's Tip: Max Corcoran
Question: What guidelines do you follow, and recommend to bring a horse back into work from a soft tissue injury of the lower leg?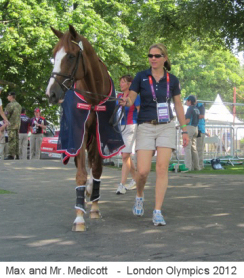 Max's Answer: When a horse has been rested and laid up from 2 months to 8 months for a soft tissue injury of the lower leg, I tend to use and recommend the following general guidelines to bring them back into work:"
1. Consult with the treating veterinarian to receive clearance for the horse to be deemed ready to resume activity.
2. Be certain to know what the horse's leg looks and feels like the day you are cleared by the vet to begin activity. This knowledge is critical so as to be able to compare any changes of the injured leg that may occur during the activity/exercise, such as swelling and/or heat in the leg. Monitoring any changes in the leg as the exercise program begins is important.
3. Keep a journal so you can chart and record your horse's progress in response to the activity and incremental changes in the exercise.
4. When you begin exercise as a result of your vet's recommendation and supervision, the horse is typically hand walked or ridden in increments of 5 min per week. When hand walked or riding the horse, make sure the footing is level, consistent, and on firm ground. The exercise protocol is as follows: 1st week: 5 min of hand walk or riding per day for 6 days 2nd week 10 min of hand walking or riding per day for 6 days 3rd week 15 min of hand walking or riding per day for 6 days 4th week 20 min of hand walking or riding per day for 6 days.
Depending on how the leg looks and feels, and evaluated by the veterinarian, trotting begins after 4 weeks of the incremental walking. Again, follow the same prescription for trotting as you did at the walk. The exercise now includes the walk with small increments of trot as follows: 1st week: 20min of walk and 5 min of trot per day for 6 days 2nd week: 20 min of walk and 10 min of trot per day for 6 days 3rd week: 20 min of walk and 15 min of trot per day for 6 days 4th week: 20 min of walk and 20 min of trot per day for 6 days After two months, you and the horse are up to 40 min. of combined walk and trot. Remember this exercise protocol is all done in conjunction with your treating vet.
5. After the daily exercise use some form of cooling on the effected leg such as icing or cold hosing as tolerated. Again, check with your vet regarding the cooling treatments. I typically use cooling for approximately 20 min, but check with vet for approval.
6. Once the leg is clean and dry post exercise and cooling, apply standing wraps to the effected leg and to the opposite leg for support and to prevent any swelling.
7. Once you are successfully up to 40 min of exercise of combined walk and trot, make sure to check with your vet for the next step in the protocol which may include flat work and/or hill work.
8. If you have access to an aqua tread machine I have found this has helped to increase muscling on their back and top line without overloading their legs. It can also be a good tool to break the monotony of the exercise protocol.
9. Be patient. Be careful not to push or rush the horse because a re-injury will set you and the horse back longer. Any questions, changes or concerns, call your treating vet immediately.
Max Corcoran's' Profile
Max Corcoran has over a decade of experience caring for David and Karen O'Connor's, 3 Day Event Team horses. She has worked with their national and international competition horses of all breeds, all the way to two Olympic Games, including the London Olympics 2012, with Karen O"Connor (5 time Olympian and medalist in 3 Day Eventing). Max's vast experience and knowledge was an integral part of the O'Connor Eventing Team.
Max was the head groom and barn manager chiefly responsible for the total care and preparation of all of the O'Connor horses including the two Olympic horses, Mr. Medicott and Mandiba, to the famous pony, Theodore O'Connor, known as Teddy, who won the Gold Medal at the Pan Am Games in 2007, to horses that competed in the World Games, and other national and international competitions.
Given her responsibilities as head groom, Max provided the successful rehabilitation of all sports injuries. After working for Karen O'Connor and the United States 3 Day Eventing Team at London Olympics 2012, Max retired from her position with the O'Connor Event Team.
In addition to managing Southern Cross Equestrian, Reddick, Florida, Max consults with grooms and competitors regarding the preparation of horses for competition and the rehabilitation of sports injuries. She recently spoke on stable management at the 2012 National United States Eventing Association (USEA) Convention, and at the 2012 USEA Area 8 on a variety of topics relating to the sport horse.
Max can be reached at: maxcorcoran@msn.com