CLINICS & SEMINARS for HORSE OWNERS
For Riders, Coaches, Equine Study College Students & Other Horse Enthusiasts
Upcoming Workshop Dates - Additional 2015 events and dates to be announced
Please see our upcoming events for more information on this and other programs.

Hands On Equine Sportsmassage Workshop for Horse Owners taught by Jo-Ann Wilson - April 25, 2015
Participate in an Equine Sportsmassage Hands On Workshop for horse owners, riders, trainers, professionals taught by Jo-Ann Wilson. This fun and comprehensive one-day workshop offers the participant a technique used in the profound Wilson Meagher Method to eliminate muscle tightness contributing to resistance and problems in motion and performance. Participants will develop an eye for limitations in motion and muscle tightness by watching horses move.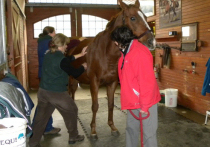 Participants will assess and determine a strengthening program if necessary, and identify causes of the muscle tightness. Join others in receiving the fun, success, and acquisition of a new skill by working on horses at the workshop under Jo-Annís teaching.
Date: April 25, 2015
Location: Ray of Light Farm, 232 Town Street, East Haddam, CT 06423
Click here for details of the clinic!

Introduction to Wilson Meagher Equine Sportsmassage - May 16, 2015
Welcome Home Farm, Greene, Maine
Seminar from 1:00PM to 3:00PM on May 16, 2015
An Introduction to Wilson Meagher Equine Sportsmassage with Jo-Ann Wilson

No one knows your horse as well as you do!
Jo-Ann Wilson, M. Ed. world renowned, licensed massage therapist, offers workshops, seminars, clinics, speaking engagements and private consultation on the Wilson Meagher Method™ of sports massage.
To attend an event or hear Jo-Ann speak, check her Events Calendar.
To host a clinic or workshop, or arrange for Jo-Ann to speak your next event, contact us at events@sportsmassageinc.com or call 978.340.0453.
Available Programs

Workshops

Overview / Location /
Who May Attend

Full-Day
or Half-Day Workshops

Seminars - On-site or On-line

Speaking Engagements - Events Calendar

Hands-on Clinical Services